An FSBO, or For Sale by Owner, is a home that is being sold by the owner without the assistance of a listing agent. Thinking about skipping the services of a Realtor and saving the cost of that service when selling your home? Some sellers don't want to hire a professional Realtor because the Realtor receives a portion of the profits from the sale of the home. To be blunt, this commission is well earned considering all the intricacies that go into selling a home and all the hard work and effort it takes to make that sale happen.
The National Association of Realtors has done the research and found that homes sold by people utilizing the services of a listing agent sold their homes for an average of 23% more than if they had sold the home themselves. In this example, I've lowered the percentage to 16% to be conservative and put in the hypothetical compensation at 6% (this would cover both the Listing Agent's and Buyer's Agent's brokerage firms' compensation). When looking at the chart below you will see that even with the agent's compensation subtracted from the final listing amount the home still sells for more than if the owner had tried to do it themselves. The hypothetical seller actually has a 9% net gain on the price. It's important that you do not underestimate the expertise, knowledge, resources, and experience a qualified real estate agent brings to the table. If you are considering an FSBO because you believe it will save you money, I strongly suggest you reconsider. You would be doing yourself a disservice and losing out on time, money, and peace of mind.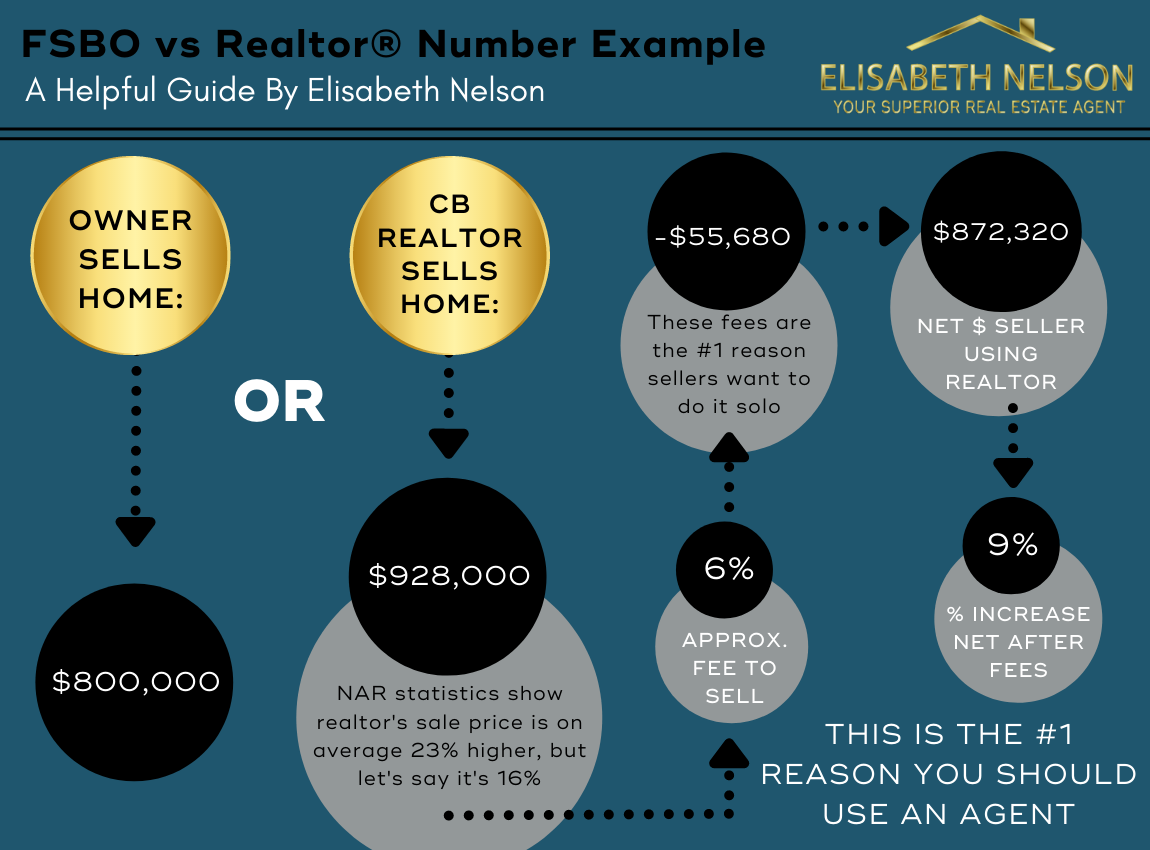 What a Realtor Can Offer You
Still thinking that selling your home yourself can't be that difficult, I'd like to offer you some insight. Here is a list of things that a seasoned real estate agent would be doing for you that you would have to do yourself instead:
Expert Insight into the current local market to help with pricing
Pre-Marketing/Prepping your home: From a Pre-Inspection to a consult with a professional stager, you will get a clear idea of the steps to take to show your house to its full potential.
Incredible Marketing: Rather than putting a sign in the yard and advertising on Craigslist, professional photography, video, and hi tech, 3D photos will be used in a multi-pronged approach to advertising which will cover google ads, social media advertising, internet, email to print (Colorado Homes or 5280 magazines as well as geo-targeted advertising.
Negotiation: As a Certified Negotiator, I am uniquely qualified to represent your best interests throughout the process.
Contracts: Selling a home involves a lot of decisions with legal ramifications. My transaction coordinator and I work hard to keep you on track throughout all of the dates and deadlines that are involved in a sale. I enjoy guiding my clients through every step of this process.
Showings: From Open Houses to an organized system to allow agents to show their qualified buyers your home, you will have more potential buyers view your property, which should bring in more buyers than you would, doing it on your own.
Expert Advice: When all those offers come in, I will put them into a spreadsheet so that you can look at them all in an organized way.
Qualified Buyers: I will vet the buyers to make sure they are pre-approved to purchase your home
What Do Buyers Think of FSBO?
I hope it's becoming clear how incredibly useful and beneficial using a real estate agent can be, but don't just think about the sell side, let's explore how a buyer views an FSBO as well:
Buyers will look at an FSBO as a home that can be purchased for under-market value and often low-ball the offer because it will have less competition.
Buyers will assume the Seller is not as knowledgeable about the local real estate market
Buyers will think the Seller is not as experienced in negotiating as a Realtor would.
All of the above could very well be true. Another thing to keep in mind is that the buyer is likely that they have a real estate agent who will expect to be compensated for their work representing the buyer. In my graph, the compensation is for both the buyer's agent as well as the listing agent. So, your potential savings could very well decrease significantly if they ask you to pay the buyer's agent's commission. If you would like to avoid all the pitfalls and sell your property for top dollar without all the hassle, call me! I will guide you through the whole process!
Elisabeth Nelson
Broker-Associate
Luxury Home Specialist & New Home Specialist
Coldwell Banker Residential Brokerage
(303) 916 5859
elisabeth.nelson@cbrealty.com